With nearly endless coastlines and scenic shorelines spanning the globe, the world is full of stunning beaches that make the perfect destination for a relaxing seaside getaway. From the soft white sands of the Caribbean to the dramatic cliffs of the Greek Isles, there are beach vacations to appeal to every taste.
Whether you prefer an action-packed itinerary full of watersports and adventures or simply soaking up the sun in a secluded cove, the beach is a place to leave your worries behind. In this listicle, we highlight 10 of the world's best beaches where you can truly unwind along the water's edge.
From luxurious island resorts to off-the-beaten path hideaways, these coastal paradises offer a sublime setting to experience the intersection of sand, sun and surf. Keep reading for an inside look at these idyllic beach destinations guaranteed to provide the ultimate seaside retreat.
1. Whitehaven Beach – Australia
With its turquoise waters and bright white silica sand, Whitehaven Beach on Whitsunday Island is consistently voted one of the top beaches in the world. This 7-kilometer stretch of pristine paradise is located on Whitsunday Island, part of the Great Barrier Reef on Australia's Queensland coast.
The dazzling white sand is 98% pure silica, giving the beach a brilliant luminescence. The vibrant blue and green shades of the Coral Sea provide a striking contrast. One of the best ways to experience Whitehaven is on an ocean kayaking tour, paddling your way towards the tranquil cove and marveling at the otherworldly colors.
When the tide goes out, the shallow waters become a protected lagoon perfect for swimming and snorkeling. You may even spot sea turtles in the translucent waters! After working up an appetite, enjoy a beach picnic right on the shore. The northern end of Whitehaven offers beautiful Whitsunday views from Hill Inlet, especially at low tide when the sand and sea merge to create a mosaic-like pattern.
For 5-star luxury accommodations, book a stay at qualia resort nestled on the northern end of the beach. Their private pavilions feature postcard-worthy views of Whitehaven's glittering sands. End your days watching the sun melt into the Coral Sea, with a beach that beautiful, you'll never want to leave!
2. Navagio Beach – Greece
Hidden on the island of Zakynthos off Greece's Ionian coast lies one of the most iconic beach views in the world – Navagio Beach. Also known as "Shipwreck Beach", this secluded cove features the wrecked smuggling ship Panagiotis run aground in the sparkling blue waters, encircled by towering limestone cliffs.

The deafening roar of the sea pounding the cliffs, the briny scent of the ocean, and the white pebbles and sand dotted with sea glass create a dramatic sensory experience. The only way to access Navagio is by taking a boat from the Zakynthian harbor out to the cove, which enhances the feeling of escaping to your own private Mediterranean paradise.

Once there, the crystalline waters – in shades of sapphire, turquoise, and emerald – are perfect for swimming, snorkeling, and photographing the spectacular scenery. After working up an appetite, enjoy lunch at one of the beachfront tavernas accessed by boat. For overnight guests, the luxurious Lesante Hotel & Spa perched on a cliff 300 meters above overlooks Navagio, offering breathtaking views of the cove. End your days in paradise watching the sun set over the Ionian sea from your private balcony.
3. Tel Aviv Beach – Israel
Tel Aviv Beach stretches 14 km along the Mediterranean coastline, with golden sandy beaches adjacent to a bustling, modern promenade. The vibrant city beach scene here is loved by locals and travelers alike.
During hot summer months, Tel Avivians flock to the coast to soak up the sun and swim in the cool, azure waters. The wide boardwalk lined with hotels and restaurants provides endless entertainment. Go for a beach jog, play Matkot (beach paddleball), join a game of beach volleyball, or take out a surfboard.
At night, beachfront bars and clubs come alive with music as DJs spin and parties go late into the warm evenings. For ultimate luxury overlooking the beach, book a sea view room at The Saul Hotel.
End your days strolling down the promenade as the waves crash and the sun sets over the Mediterranean Sea. The laidback yet lively ambiance makes Tel Aviv beach an ideal urban beach getaway.
4. Anse Source D'Argent – Seychelles
The iconic Anse Source D'Argent on the island of La Digue is considered one of the world's most photographed beaches, and for good reason. Located in the Seychelles cluster of 115 islands off the coast of East Africa, this beach is renowned for its towering granite boulders, powdery white sand, and dazzling turquoise waters.
Accessible via ferry from the main island of Mahe, Anse Source D'Argent awaits with postcard-perfect views around every corner. The name translates to 'Source of Silver,' referring to the glistening waters that appear silver when hitting the sunlight just right. Walking through the massive boulders at either end, you'll discover sensational lookout points.
The protected reef makes the crystal clear waters ideal for snorkeling with schools of tropical fish. At low tide, unique sand patterns emerge on the inner shore. For luxurious accommodations directly on the beach, stay at Le Domaine de L'Orangeraie Resort and Spa in private villas with ocean views. Gaze out at the Seychelles sun dipping into the horizon, painting the sky with hues of orange and pink over the waters.
5. Railay Beach – Thailand
Accessible only by boat due to the surrounding limestone cliffs, Railay Beach in Krabi, Thailand feels like your own private island paradise. The powdery white sand, clear azure waters, and dramatic jungle scenery create an utterly tranquil setting for the ultimate beach getaway.
The vibe is laidback and relaxed, with a handful of beachfront resorts and restaurants nestled between the lush greenery and karst formations jutting from the sea. The beach is divided into Railay East, Railay West, Phra Nang, and Tonsai, each with their own allure.
Popular activities include rock climbing the cliffs, kayaking to secluded coves, and simply soaking up the sun on a beach lounger. At night, relax with beachside Thai massages and fresh seafood under twinkling lights. Stay at the luxurious Rayavadee nestled between the cliffs for private pavilions with outdoor Jacuzzis.
End your days watching breathtaking Railay sunsets, and wake up to spectacular ocean views along this slice of Thai paradise. The only difficult part is motivating yourself to leave!
6. Pink Sands Beach – Bahamas
On the northeast side of Harbor Island in the Bahamas lies one of the most unique beaches in the world – Pink Sands Beach. As the name suggests, the powdery soft sand shimmers with a pink hue, caused by finely crushed coral mixed with the calcium carbonate sand.

This 3-mile long stretch of beach continually ranks as one of the most beautiful in the Caribbean with its calm, gentle waters in shades of green, blue, and turquoise. The vibrant pink sand provides a stunning contrast, making for incredible photographs.

Popular activities include swimming, snorkeling, stand-up paddleboarding, and sailing in the protected waters along the coral reefs. For accommodations directly on Pink Sands, check into The Landing Resort. Their oceanfront villas feature handcrafted interiors and amenities like private pools.

End your evenings with Bahamian rum cocktails and local seafood while watching incredible sunsets over the Atlantic from your patio. The pastel parade of pink sand and blue waters never fails to take one's breath away on this Bahamian island paradise.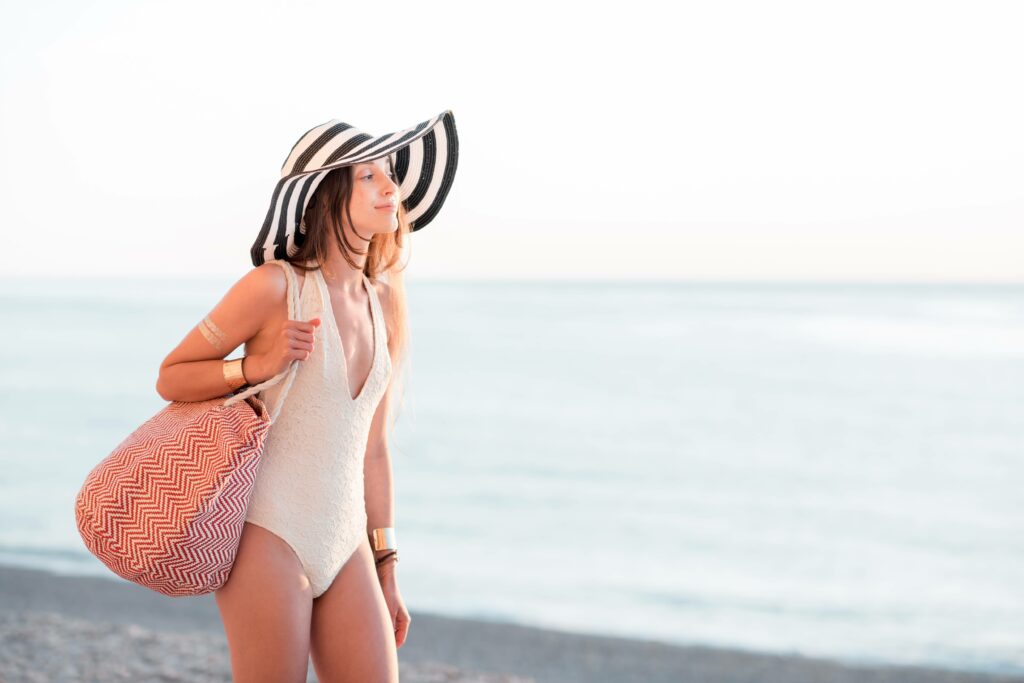 7. Ka'anapali Beach – Hawaii
Stretching over 3 miles along Maui's northwest coast, Ka'anapali Beach is quintessential Hawaiian paradise. Its golden sand, breezy palms, and crystal clear waters create a picturesque setting in front of the West Maui Mountains. Ka'anapali Beach is consistently ranked as one of the best beaches in America.

The lively beach area has lots to offer along the palm-tree lined boardwalk. Enjoy Hawaiian luau shows, shop beachfront stores, grab tropical cocktails, and nosh on fresh seafood. Snorkel among vibrant reefs, take out paddleboards, or relax in a cabana on the sand.

As Hawaii's first planned resort, Ka'anapali has no shortage of accommodation options. For beachfront luxury, stay at the Hyatt Regency Maui Resort and Spa with swimming pools, restaurants, and spa services. Watch pros ride waves at Ka'anapali's famous surf break or try cliff diving at Black Rock to round out your Hawaiian vacation.

End your days with dazzling Ka'anapali sunsets, often with live music in the background. The Aloha spirit comes alive on this beautiful stretch of Maui beachfront.
8. Horseshoe Bay Beach – Bermuda
On Bermuda's picturesque South Shore, Horseshoe Bay Beach is considered one of the island's most beautiful stretches of pink sand. This curved bay gets its name from the horseshoe shape formed by the natural coral coves.

Along with pink sand granite cliffs, the turquoise waters and offshore coral reefs create a stunning coastal landscape. A mix of locals and tourists come to enjoy the family-friendly atmosphere. Relaxation areas with umbrellas and chairs are available to rent.

Popular activities include swimming in the calm, clear waters, snorkeling the reefs, and building sandcastles on the rosy shore. For upscale accommodations overlooking the beach, book a stay at The Reefs Resort and Club, offering oceanfront suites and private cottages.

Cap off a relaxing day in paradise with cocktails and a Bermudian beach picnic while you take in the cotton candy sunsets over Horseshoe Bay, a perfect pink beach escape.
9. Seven Mile Beach – Jamaica
Located near Negril on Jamaica's western coast, Seven Mile Beach is aptly named for its length – stretching over 7 continuous miles of soft white sand hugging the vibrant turquoise sea. This famous beach has long been a haven for sunseekers, music lovers, and adventure travelers alike.

The calm, clear waters are perfect for swimming and snorkeling. Many all-inclusive resorts dot the coastline, offering oceanfront accommodations and amenities. Try cliff jumping at Rick's Cafe, indulge in flavorful Jamaican jerk cuisine, and sway to reggae beats pumping from beachfront bars.

As the sun goes down, lounge around a beach bonfire and marvel at the stellar sunsets. For a laidback vibe with epic sunset views, check into the Rockhouse Hotel, featuring thatched roof bungalows perched on the cliffs above.

With its endless stretch of pearly sand, warm turquoise waters, and chill atmosphere, Seven Mile Beach encapsulates the quintessential Caribbean paradise.
10. Flamenco Beach – Puerto Rico
Consistently ranked one of the world's best beaches, Flamenco Beach lies on the island of Culebra, a short ferry ride from mainland Puerto Rico. This wide expanse of white sand and calm, shallow waters creates the quintessential Caribbean escape.
With its protected status as part of the Culebra National Wildlife Refuge, Flamenco remains uncrowded and pristine. It stretches over a mile long, with the bright blue bay on one side and low scrub trees on the other. The soft white sand is perfect for sinking your toes into and the relatively still waters are ideal for swimming and snorkeling.
Popular activities include beachcombing, building sand castles, relaxing in a hammock under the trees, and enjoying local Puerto Rican snacks from the food stands. For accommodations, check into the laidback Club Seabourne overlooking the beach, offering a range of rooms, suites, and villas.
End the day watching the sunset over Flamenco Beach from the balcony of your room, with a colorful cocktail in hand. With its beauty, tranquility and convenience, it's no wonder Flamenco consistently tops lists of the best beaches in the world.
Conclusion
The world is filled with stunning shorelines, but some beaches stand out for their awe-inspiring beauty, activities, and overall ambiance that creates the ultimate seaside getaway.
From the remote coves of Greece to the urban vibes of Tel Aviv, these 10 beaches deliver idyllic settings to experience sun, sand, and surf. With luxurious amenities like 5-star stays at qualia resort or Rockhouse Hotel and iconic highlights like Whitehaven's Hill Inlet, you'll be tempted to never leave these coastal paradises.
Each beach has its own unique charm and landscape, but they all have one thing in common – the magnificent intersection of land and sea that clears your mind, relaxes your body, and restores your soul. Start planning your next beach trip, because a seaside vacation at one of these 10 best beaches is good for your health, happiness and wanderlust.
Frequently Asked Questions
What is the best time of year to visit beaches?
The best time is during the dry season when rains are less frequent. Peak beach season for most destinations is summer when the weather is sunny and warm. However, this is also the most crowded and expensive time. Visiting in the shoulder season of spring or fall offers pleasant weather with fewer crowds.
What should I pack for a beach vacation?
Be sure to pack light, breathable clothing, swimwear, sandals, sunscreen, hats, sunglasses, beach towels, and books/magazines for lounging. Also bring reef-safe sunscreen to protect marine life when swimming and snorkeling. Pack layers for the evenings when temps can cool off.
How can I find affordable beach vacations?
Traveling outside of peak summer months provides more budget friendly rates on hotels and flights. All-inclusive resorts offer value for your money. Choose destinations with fewer pricey international flights like beaches in Mexico and the Caribbean for a cheaper beach getaway.
Are beaches safe to visit right now?
Many beaches have COVID-19 safety measures and restrictions in place. Check the local travel advisories before visiting. Avoid crowded beaches that make social distancing difficult. Taking precautions allows you to safely enjoy the beach.
What are the best beach activities for families?
Family favorites include building sandcastles, playing catch, swimming, beach walks, collecting shells, and sand art. Join a whale or dolphin watching tour for some education. Flying kites and outdoor beach picnic meals make for a fun and affordable beach day with kids.